Villa del Norte
50 Section 8 Project Based Apartments for the Elderly or Disabled
737 La Joya Street NE
Española, NM 87532
(575) 753-9611
(575) 753-1714
email:
vdn@torchousing.org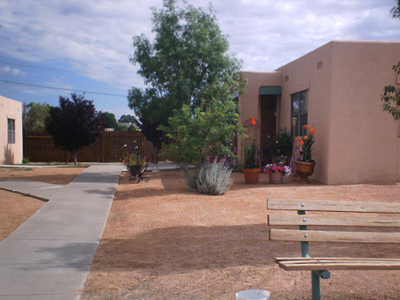 Villa del Norte consists of forty-eight 1 bedroom apartments and two 2 bedroom apartments. ADA-access units are available. All apartments have gas ranges, refrigerators and refrigerated air conditioning.
The grounds are nicely landscaped with trees, shrubs and grass. A full-time maintenance staff takes care of the apartments and grounds, maintaining a high standard of excellence. There are laundry facilities, a soda machine and a community center on the premises.
The Jewel of Northern New Mexico, Española was founded in 1598 by Spain as the first capitol of New Mexico. It sits in the northern Rio Grande Valley between the Jemez Mountains and Truchas Peaks, and is a very convenient base for exploring northern New Mexico. Espanola is filled with talented world-class local artists.
Villa del Norte is conveniently located. Churches, banks, beauty shops, barbers, restaurants, a movie theatre, the post office, a drug store, shops, and lawyers all within a few miles. Villa del Norte is also about ½ mile from a Super-Wal-Mart and a couple of miles from the Community Theatre.
The application must be completely filled-out, signed and returned to the Housing Authority with copies of all household members' Birth Certificates, Social Security cards, and proof of any and all income. Social Security recipients must provide a copy of award letters.
This places the applicant on the waiting list.
View larger map
Eligibility: Based on income, acceptable background and rental history check – TCHA will complete a landlord reference, credit check, and NCIC check for verification. Must be 62 years of age or disabled (as defined by social security disability).
Rent Calculation: Thirty percent (30%) of your monthly adjusted income.
Utilities: included with the rent.
Security Deposit: Deposits are based on calculated Total Tenant Payment.
Pet Deposit: Pet deposit depends on income and is calculated at move-in. Pets may not weigh more than 25 pounds fully grown, and you must furnish the Housing Authority with a copy of current vaccination records and proof of a pet license from the city of Espanola. There is no financial assistance for pet deposits.
Other: Residents of housing programs may be eligible for Lifeline, a discounted telephone service. Residents that pay utilities may be eligible for the Low Income Home Energy Assistance Program (LIHEAP). Please contact the local NM State Human Services Department office for more information.
Moving Out: Thirty days notice is required. Submit a filled out "Intent to Vacate" form to our office at least 30 days in advance of vacating the premises.