Vista del Cerro Apartments
30 HUD-Assisted Public Housing Apartments
3rd Street between Coleman & Tingley
Truth or Consequences, NM 87901
(575) 894-2244, ext. 1124
email:
manager@torchousing.org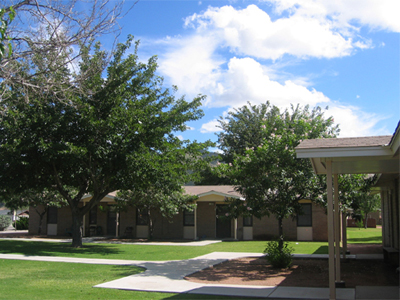 Twenty 2-bedroom and ten 3-bedroom unfurnished public housing apartments, all of which a wheel chair can enter and navigate. One 2-bedroom is designated as wheel chair accessible.
All apartments have a gas range, refrigerator, refrigerated air conditioning and fenced backyards. The complex is nicely landscaped with trees, shrubs and grass. There is a laundry facility and two playgrounds (toddler playground and older children playground) on the premises. A full-time maintenance staff takes care of the apartments and grounds maintaining a high standard of excellence.
This site is located approximately two miles from downtown Truth or Consequences where you can find churches, banks, beauty shops, barbers, restaurants, movie rentals, post office, groceries, drug store, shops, lawyers, and hot mineral bath houses.
It is about two miles from the City Library and the bowling alley, and it is very close to the Truth or Consequences Golf Course. Approximately five miles away is Elephant Butte Lake State Park, which is open for picnicking, camping, fishing, swimming, jet skiing, and boating fun (park passes required).
Also, Enchantment Child Development Center is on the premises. The apartments are about a mile from the Elementary School, Ralph Edwards Park and a Junior/Senior Fishing Pond.
The application must be completely filled-out, signed and returned to the Housing Authority with copies of all household members' Birth Certificates, Social Security cards, and proof of any and all income. Social Security recipients must provide a copy of award letters.
This places the applicant on the waiting list.
View larger map
Eligibility: Based on income, acceptable background and rental history check – TCHA will complete a landlord reference, credit check, and NCIC check for verification.
Waiting List: Placement on the waiting list is by date and time a fully completed application is received.
Rent Calculation: Thirty percent (30%) of your monthly adjusted income.
Utilities: You pay gas only. Contact the New Mexico Gas Company regarding any required deposits (575) 894-2843. A utility allowance is factored in the rent calculation.
Security Deposit: Deposits vary based on unit size and are the sole responsibility of the tenant; no financial assistance is available for security deposits.
Pet Deposit: Pets may not weigh more than 25 pounds fully grown, may not be any vicious breed of dog, and you must furnish the Housing Authority with a copy of current vaccination records and proof of a pet license from the City of Truth or Consequences. There is no financial assistance for pet deposits.
Other: Residents of housing programs may be eligible for Lifeline, a discounted telephone service. Residents that pay utilities may be eligible for the Low Income Home Energy Assistance Program (LIHEAP). Please contact the local NM State Human Services Department office for more information.
Moving Out: Thirty days notice is required. Submit a filled out "Intent to Vacate" form to our office at least 30 days in advance of vacating the premises.